Insane Inflatable 5k
Charlotte, NC
June 23, 2018
Register Now
What Our Fans Are Saying:
"If you're looking for a fun and unique way to make an entrance into the world of running, I would highly recommend the Insane Inflatable 5K. For someone who is not a runner, this was a great way to get out there and try it. We had so much fun playing around on the giant inflatables. They're a great way to break up the monotony of running, especially if you're not used to it." - Emilee B. via Yelp
Invite Friends
Venue Address
Charlotte Motor Speedway
7299 Bruton Smith Blvd.
Concord, North Carolina 28027
Packet Pickup
Tractor Supply Co. | Friday June 22 | 3:00 - 6:00 PM
104 Commercial Park Dr SW
Concord, NC 28027
Charlotte, NC
7299 Bruton Smith Blvd. Concord, North Carolina 28027
Event Parking Info
Parking for the event will be $10, cash only. Please following event parking signs.
Ticket Types
Insane Midway Access
Insane Inflatable 5K T-Shirt
Custom Finisher's Medal
Custom Runner's Bib
Unlimited Wave Entry
Sold Out Wave Access
$20 Merchandise Credit
Registration Countdown
Price Expires
Nov 17

$29

Price Expires
Apr 06

$39

Price Expires
Apr 20

$44

Price Expires
May 11

$49

Price Expires
Jun 01

$54

Price Expires
Jun 22
11:59 PM EST

$

57

General Admission

Event Day Price

$65

$

79

All Access Pass
Wave Updates
Only 85% Left!
8:30 am wave
1
Spots Left
8:45 am wave
6
Spots Left
9:00 am wave
0
Spots Left
9:15 am wave
13
Spots Left
9:30 am wave
0
Spots Left
9:45 am wave
49
Spots Left
10:00 am wave
2
Spots Left
10:15 am wave
34
Spots Left
10:30 am wave
94
Spots Left
10:45 am wave
100+
Spots Left
11:00 am wave
69
Spots Left
All Access Pass
87
Spots Left
Need to register for a sold out wave?
Giant Inflatables Like You've Never Seen
We like to say the Insane Inflatable 5K was born on the back of bar napkins, because, well, that's the truth! Those napkins were the sketch-pad from which dreams came to life one night in an Orlando bar. It's unclear how inflatables even came up in conversation or how many beers had been consumed at the time, but the resulting inflatables are so gigantic we couldn't believe our own eyes!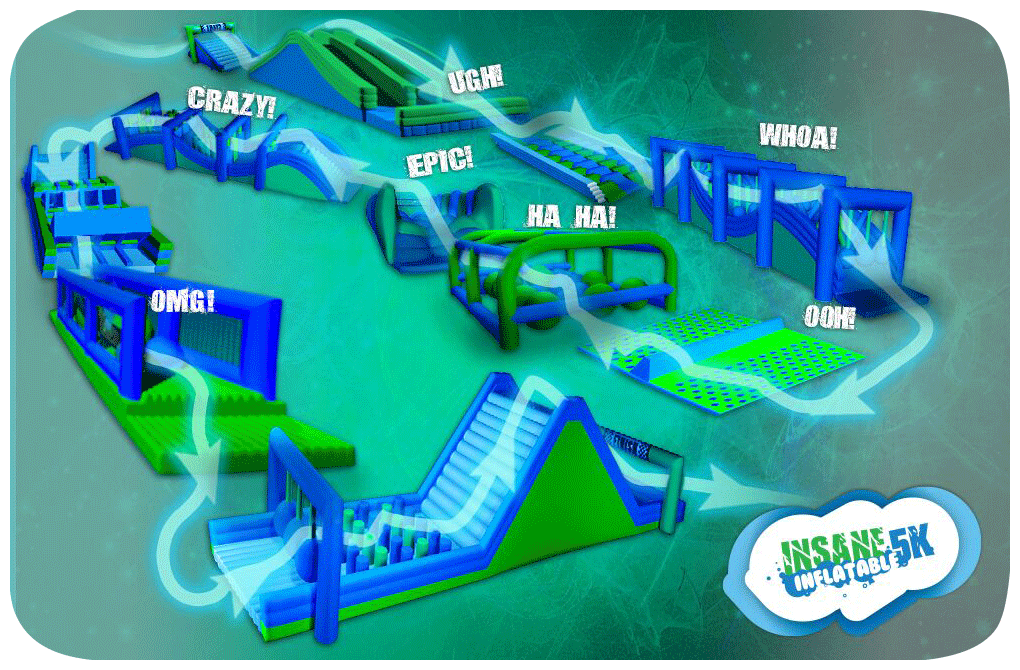 Presented By:
Learn More
Locally Presented By:
Learn More
Charity Partner:
The American Cancer Society is the nationwide voluntary
health organization dedicated to eliminating cancer as a
major health problem. The Insane Inflatable 5K has chosen
the organization as our charity of choice. A portion of the
proceeds from each event support the local Relay For Life in
each community an Insane Inflatable 5K is held.
Donate Now