Insane Inflatable 5k
Portsmouth, NH
August 17, 2019
Register Now
What Our Fans Are Saying:
"If you're looking for a fun and unique way to make an entrance into the world of running, I would highly recommend the Insane Inflatable 5K. For someone who is not a runner, this was a great way to get out there and try it. We had so much fun playing around on the giant inflatables. They're a great way to break up the monotony of running, especially if you're not used to it." - Emilee B. via Yelp
Invite Friends
Venue Address
New England Dragway
280 Exeter Road
Epping, New Hampshire 03042
Packet Pickup
Planet Fitness | Fri. August 16th | 3:00 - 6:00 PM
20 Portsmouth Ave.
Stratham, NH 03835
Event Parking Info
Parking for the event will be $10, cash only. Please following event parking signs.
Ticket Types
Insane Midway Access
Insane Inflatable 5K T-Shirt
Custom Finisher's Medal
Custom Runner's Bib
Unlimited Wave Entry
Sold Out Wave Access
$20 Merchandise Credit
Registration Countdown
Price Expires
Nov 16

$29

Price Expires
Jun 07

$39

Price Expires
Jun 21

$44

Price Expires
Jul 12

$49

Price Expires
Aug 02

$54

Price Expires
Aug 16

$57

Price Expires
Aug 17
03:59 AM EST

$

65

General Admission

$

79

All Access Pass
Wave Updates
Only 50% Left!
8:30 am wave
100+
Spots Left
9:00 am wave
100+
Spots Left
9:30 am wave
100+
Spots Left
10:00 am wave
14
Spots Left
10:30 am wave
100+
Spots Left
11:00 am wave
100+
Spots Left
All Access Pass
89
Spots Left
Need to register for a sold out wave?
Giant Inflatables Like You've Never Seen
We like to say the Insane Inflatable 5K was born on the back of bar napkins, because, well, that's the truth! Those napkins were the sketch-pad from which dreams came to life one night in an Orlando bar. It's unclear how inflatables even came up in conversation or how many beers had been consumed at the time, but the resulting inflatables are so gigantic we couldn't believe our own eyes!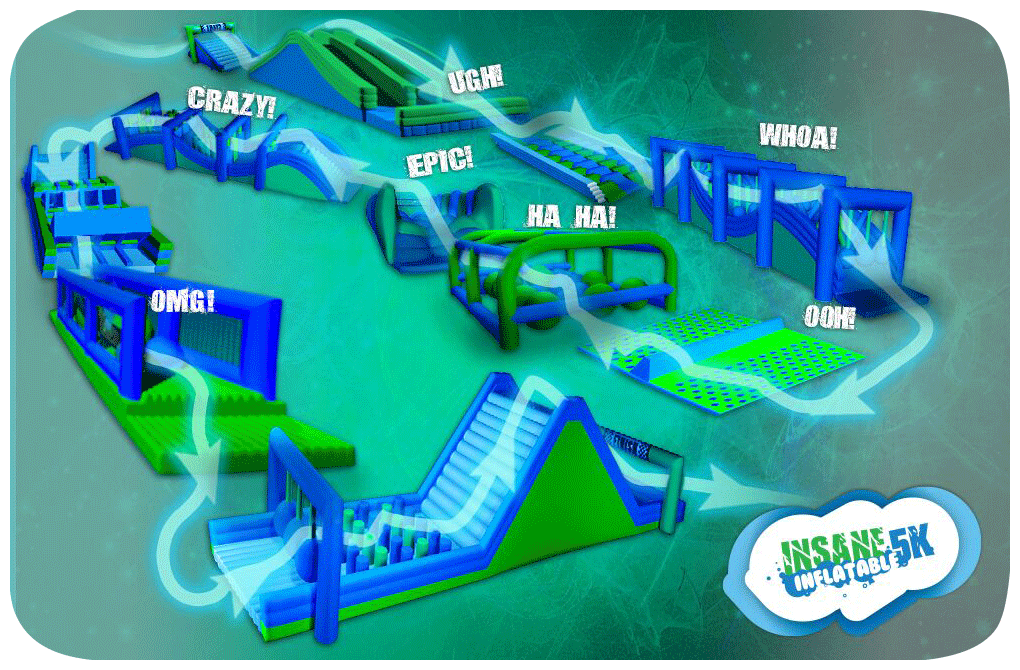 Charity Partner:

Aubrielle's Hope is a 501c3 nonprofit devoted to helping NH
families after the death of a child. They provide financial aid
for the funeral, cremation or burial for a child that passes
away under the age of one.
Donate Now